Danny
2nd July 1998

Danny was born at three in the afternoon on the 18th of March 1998, at Guy's Hospital in Bermondsey. He was three weeks early, so weighed in at a rather weedy 5 lb 2 oz, but immediately started gaining weight and seems now to be a small but concentrated bundle of dangerously uncoordinated muscle.

Here is a list of Danny's skills, as of 2nd July:
| | |
| --- | --- |
| Walking Ability: | None |
| Football Ability: | Carlton Palmer level |
| Talking: | Dan Quayle level |
| Making Cute Noises: | Yes |
| Crying for no real reason: | Oh yes |
| Getting really excited also for no real reason, (frequently while having his nappy changed), thrashing wildly about, and managing very gradually to turn through about ninety degrees while still remaining flat on his back (Note 1): | Yes |
Here are two, admittedly rather similar, photos of Danny. They were taken on about the 12th of June, which would make him a tad over twelve weeks old at the time. Click on the thumbnails to see the full size versions.
By the way, just because I am realistic about Danny's levels of competence (nil, basically), I wouldn't want anyone to think that this means I don't recognise him to be absolutely the finest baby ever to walk the face of the earth, which he unquestionably is. Just thought I ought to clear that up.
(Actually, when we spend any time with other parents, we often get quite embarassed by Danny's obvious and enormous superiority over their offspring. We try to laugh it off, but we know that they know it's true.)
Here are a couple more photos of Danny, these taken on the 7th July 1998, making him nearly a month older than in the pictures above. Arrrgh! The times's going by so fast!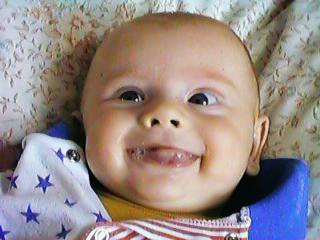 I really like this next one. As I may have mentioned, Danny is extraordinarily advanced; not content simply with walking, here is a picture of him, aged just three months and twenty days, preparing to stomp all over Tokyo in the manner of Godzilla: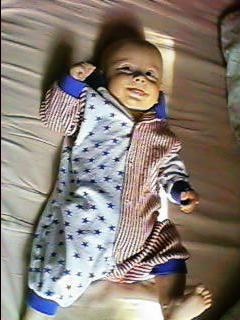 There are some more photos of Danny, with Fiona and me, on the family photos page.

Note 1: This is probably his most impressive skill. (back)